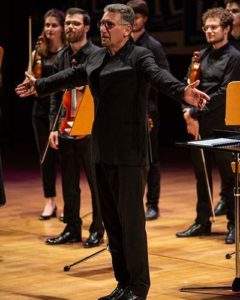 Dirk Van de Moortel is the founder and conductor of the Young Belgian Strings orchestra.
The Young Belgian Strings is a string orchestra made up of 21 young talents from different classes of string instruments, coming from all the Royal Conservatories and High Schools of Music from different communities. Since January 2020 the YBS have been placed under the High Patronage of Her Majesty the Queen.
Dirk Van de Moortel is the first violin desk of the National Orchestra of Belgium (ONB). He regularly supervises students there from Academies and Conservatories called to perform with the orchestra as part of various educational projects.
He performs with various chamber music ensembles from the ONB, the Duo Romanza, the Baroque Amaryllis Trio, the Bel Orchestra and many other formations in Belgium and abroad, both in classical music and in music from world or jazz.
Dirk Van de Moortel is also a teacher of violin and chamber music. He has successfully set off many talented young violinists from our Conservatories into successful international careers.
Lorenzo Gatto, second prize at the Queen Elisabeth International Music Competition of Belgium is one of the best examples.