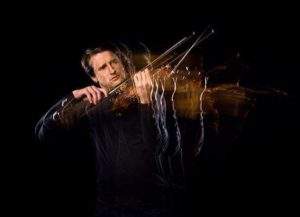 Since winning the second Prize at the Queen Elisabeth Competition in 2009, Lorenzo Gatto has established himself as a renowned musical personality internationally.
Lorenzo Gatto graduated from the Brussels Conservatory at age 17 in the class of Véronique Bogaerts, and subsequently followed the teachings of Boris Kuschnir at the Vienna Conservatory and of Augustin Dumay at the Queen Elisabeth Music Chapel.
As a European Concert Halls Organization "Rising Star", he performed from a very young age on major European stages such as the Musikverein in Vienna, the Wigmore Hall in London and the Philharmonie de Paris.
Lorenzo Gatto regularly plays in Korea, Japan, China, the United States and Israel. Among others, the BBC Philharmonic, the Rotterdam Philharmonic Orchestra, Kremerata Baltica, the Brussels Philharmonic, the Antwerp Symphony Orchestra, the Lille National Orchestra, the Sinfonia Varsovia, the Verdi Orchestra invite him to perform. He has collaborated with many renowned Conductors, including Benjamin Lévy, Yannick Nezet-Séguin, Philippe Herreweghe, Emmanuel Krivine and Jaap Van Zweden.
For more than ten years, he has maintained a very strong bond with the National Orchestra of Belgium (ONB). It is with the ONB that he recorded in 2015 the world premiere of Benoit Mernier's violin concerto (dedicated to him by the composer).
His numerous records have won several awards, including a "Diapason d'Or of the Year" 2016 and a "Classica Choc" for his recordings devoted to Beethoven's sonatas alongside the pianist Julien Libeer for the Alpha label.
In chamber music, Lorenzo Gatto has played alongside Maria João Pires, Martha Argerich, Menahem Pressler, Nicolas Angelich, Frank Braley, Misha Maisky, Miguel da Silva and Gérard Caussé.
Since 2018, Lorenzo Gatto has been a visiting professor at the Queen Elisabeth Music Chapel.
Future projects include a tour with Brahms' Double Concerto with Pieter Wispelwey and a tour with The Four Seasons by Vivaldi.
Lorenzo Gatto has always developed a curiosity and an interest in very varied fields. A sportsman, aviation and mountain enthusiast, he holds an airplane pilot and paraglider license.
A committed musician, he leads initiatives to broaden the horizons of classical music. His investment with young talents in the Young Belgian Strings orchestra is a good example, or with associations such as the Children's Choir of Molenbeek 'Sing for Living Together'.
Lorenzo Gatto plays on the Stradivarius "Joachim" dating from 1698.